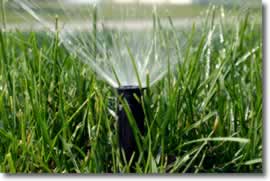 Residential Services
Irrigation Solutions
In our climate it is essential to have a proper watering system in place. You have made an investment in your landscape and proper irrigation is critical to ensure its survival.
Our team will design a custom irrigation system after analyzing and measuring your yard. Not only will it help maintain a healthy, beautiful landscape which you can enjoy with your friends and family, but it's the most convenient and efficient way to ensure your landscape gets the water it needs without over or under watering.
When it is properly installed and maintained, an automatic sprinkler system conserves water and lowers your water bill. System design and installation are critical factors that will affect your system's performance and longevity. There is much more to an irrigation system than just sprinklers!